Daylife, Tours & Activities
You'll find plenty of ways to wait out the daytime until your next trip to the bars and discos.  During the daytime you might be inspired to do some shopping or browse through the many art galleries in Vallarta.  We have dedicated separate pages for those, so we won't repeat much about those ideas here.  Vallarta has many options for relaxation during the day including our gay beaches and many organized gay cruises and tours.  Unless your accommodations have satellite TV, the half dozen channels that are in English on the cable system here just might not do!  So, what else is there after TV in the daytime?  Part of the reason to visit the tropics is to enjoy the outdoor life that our climate makes possible.
Gay Beach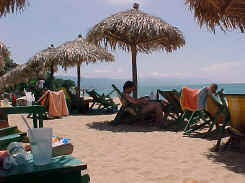 It's usually called the blue chairs, which really is one beach restaurant's section of this special beach on the southside of Puerto Vallarta.  Los Muertos is the busiest beach area in Vallarta, and one section of it is very gay: around the beach concession commonly known as the blue chairs.  Spread out under little palapa (thatched) umbrellas are literally blue beach chairs, where our kind of people tend to hang out.  So many, in fact, that the gay beach area always included the green chairs of the Ritmos Cafe concession area too, immediately south of the blue chairs.
The gay beach continues to expand. A short way further north is Sapphire Ocean Club, a small gay owned beach club with very classy service and great food.
In these beach clubs you'll find hundreds of gay men and women sitting under the palapas or on towels nearer the surf line, soaking up the hot Mexican sun and socializing with gays from all over the world. 
Once at the beach you'll immediately come in contact with the many beach vendors, who are licensed and very territorial.   There are various things being sold, all by differing vendors, since there are separate licenses for each kind of item.  You'll be offered fruit, ice cream, fresh pies, newspapers, silver jewelry, clothing items, tickets to cruises and tours, Mexican blankets, and many more items.  This is the place to bargain, you should never pay the asking price, although even with great bargaining skills you won't get as good a price here as when you shop for these items away from the beach.  After a while it can get irritating to some, because these vendors keep coming around.  Our recommendation is to stay relaxed and get used to saying politely (but firmly) "no, gracias" and don't let it bother you.
The beach is easy to find, it is less than a quarter mile south of the pier located at the foot of Francisca Rodriguez Street.  The blue and green chairs are marked on our map (see map).  In case your gaydar isn't working when you get there and you need help finding the place, the Blue Chairs flies a rainbow flag on top of their restaurant building.  If taking a taxi to the beach it is best to tell the driver "Blue Chairs - Los Muertos."
---

A non profit, bilingual art center dedicated to expanding the local and international knowledge of Contemporary and Historical Arts and Culture in puerto Vallarta.
Read more
Attractions
Go back to top
Vallarta Botanical Gardens opened its gates in 2004. Since then it has grown to become one of Puerto Vallarta's most fabulous "must see" tourist attractions. The Gardens hours are, 9am-6pm. 7 days/wk. From Dec. through Mar. (Except Dec. 25th & Jan. 1st.). Apr. through Nov. Open 6 days/wk (closed Mondays). December through March visit for the Early "Bird" Opening. Thursdays at 8am, Daily Guided Tour 1pm.
Read more
Beach Clubs
Go back to top
These beach clubs on Playa Los Muertos are gay owned or cater to the gay audience.

"The Beach Club" is a very popular beach club, where people from all over the world meet to meet new friends and enjoy delicious meals at a reasonable cost, with excellent Mexican food, fresh seafood, meats and snacks. **Open to the public from 7am to 8pm following all protocol.**
Read more
Day Tours
Go back to top
There are several tour companies and cruises to choose from if you're interested in getting off that beach and doing something else. With the beauty out there that is Banderas Bay, the most common type of tour is a gay cruise. You can also choose horseback riding tours and shopping tours. All tours listed here are for the gay community. There are countless others (straight tours) that we don't detail here.
For a full calendar of all the gay tours click here!.

The Luxury Home Tour is approximately 3 hours (10:30 to 1:30) Tuesdays and Wednesdays during the winter season. The Tour benefits the IFC and it's programs including the ongoing Cleft Palate Program providing surgery and care for children and young adults.
Read more
Event Organizers
Go back to top
Organizers of gay circuit parties, package vacations, themed events and cruises that come to PV. Also events from the greater community of interest to gay tourists.

The biggest party in the West starts in sunny San Diego as they sail to Mexico's best beaches, or party and enjoy a week of activities at the Hard Rock Hotel.
Read more

Steve Buczek's Annual Leather & Bear Week BeefDip!
Read more

Puerto Vallarta will host the second edition of the Festival of pyrotechnic LuminiaFest 2017 at Malecón del Centro. Free entrance.
Read more

The best of queer/LGBTTTI movies worldwide as part of the International Festival of cinema in Puerto Vallarta. March 16 - 22 2019.
Read more

"Your Go-To Gay Guys for Events in Vallarta" -- They design same-sex destination weddings, birthday parties, corporate events, and more! Bring your love to Mexico and celebrate with family and friends!
Read more

An LGBTQ+ pride festival in Puerto Vallarta created by the community for the community. Beyond the parties, show our pride in what we are and what represents us. Nuestro Orgullo (our pride)
Read more

Olivia and R Family Vacations have teamed up to produce their LGBT Family & Friends Hard Rock Vallarta Resort in Mexico's most LGBT-friendly city, Puerto Vallarta!
Read more

PINK & PROUD Exclusive Womxn-Only Parties in Puerto Vallarta! Because girls celebrate PRIDE too!
Read more

This June 8-14, 2020 Puerto Vallarta's favourite LGBTQ, Allies & their businesses will be coming to you LIVE, with all your favourite LGBTQ bars, restaurants, hotels and performers sharing their local flair with YOU! This is NOT an OFFICIAL Vallarta Pride event, but please tune in! Puerto Vallarta Pride celebrations has always meant to come together, enjoy, indulge and catch a ton of great events.
Read more

The Race aims to promote active and healthy lifestyles in the population from outdoor physical activity, particularly running and make visible the LGBTTTIQA + movement in the fight against discrimination and violence, as well as promote equality, normalization and recognition of the human rights of the community.
Read more

"Following the trend of other influential fine dining destinations around the world, Vallarta Lifestyles Publishing Group established Restaurant Week in 2005 through an annual festival that takes place every year."
Read more
ONE WALK ONLY Come dance with us and show your pride. It's the most fun you can have with your clothes on! Por Vallarta101 111 seguidores
Read more

Come on down to the BEST street in town and enjoy an evening of music, drinks and the best shopping around. Now in its 6th season.
Read more

Super vallarta Drag fest is an event whose purpose is to highlight the local talent of Puerto Vallarta to already consolidated drags, drags from the Mexican Republic, foreigners, as well as new talent babys drags, so attendees can enjoy a wide variety of shows , workshops, exhibitions, contests, and more.
Read more

Your Favorite Promoters LLC- Mishelle Havinfun, Madison the Promoter, and Ladies Touch Travel present: Tropicale Puerto Vallarta a LGBTQ Women's + All-Inclusive Vacation October 25-31, 2021 at Hilton/Grand Fiesta Americana Puerto Vallarta, MX
Read more

Puerto Vallarta's LGBT Gay Pride celebration.
Read more

Jeffrey Sanker presents is bringing the White Parties to Puerto Vallarta!
Read more

Straight men standing up against domestic violence. Casa Esperanza women's shelter-Fundraiser. A home for victims of domestic violence. For more information: compassionforthefamily.com
Read more

Live life to the fullest and party with sophistication and style!
Read more

Enjoy all-inclusive events and specialty parties produced by Bearadise. Live it up at monthly clothing-optional daytime beach parties & pool parties designed by bears for bears, cubs, otters, daddies and their admirers. Get frisky at nighttime events in the hottest clubs and bars with the sexiest DJs and guest stars. Bearadise provides everything a bear could want for a growling good time in Puerto Vallarta, the #1 Bear Destination in Latin America.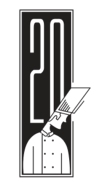 20th annual Gourmet Festival. Passion, devotion and enjoyment – that is culinary art at its very best. Experience it in Puerto Vallarta from November 13th to the 23rd, 2014, at high-class events in the settings of our Festival partner hotels, restaurants and event locations. Over thirty star-crowned guest chefs of the international gourmet scene from all over the world will be there to pamper you along with the chefs from the exclusive local hotels and restaurants.

Announcing Vallarta Bear Weekend 2019 "We are a new concept of naughty parties not only for the bear community, but also for cubs, otters and admires in Puerto Vallarta created by locals."
Schools and Classes
Go back to top

Live the experience of the cooking classes with chef Julio Cesar Castillon Perez. Reservations require!
Read more