Daylife, Tours & Activities
You'll find plenty of ways to wait out the daytime until your next trip to the bars and discos.  During the daytime you might be inspired to do some shopping or browse through the many art galleries in Vallarta.  We have dedicated separate pages for those, so we won't repeat much about those ideas here.  Vallarta has many options for relaxation during the day including our gay beaches and many organized gay cruises and tours.  Unless your accommodations have satellite TV, the half dozen channels that are in English on the cable system here just might not do!  So, what else is there after TV in the daytime?  Part of the reason to visit the tropics is to enjoy the outdoor life that our climate makes possible.
Gay Beach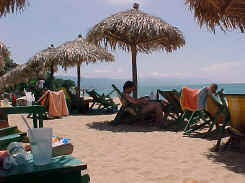 It's usually called the blue chairs, which really is one beach restaurant's section of this special beach on the southside of Puerto Vallarta.  Los Muertos is the busiest beach area in Vallarta, and one section of it is very gay: around the beach concession commonly known as the blue chairs.  Spread out under little palapa (thatched) umbrellas are literally blue beach chairs, where our kind of people tend to hang out.  So many, in fact, that the gay beach area always included the green chairs of the Ritmos Cafe concession area too, immediately south of the blue chairs.
The gay beach continues to expand. A short way further north is Sapphire Ocean Club, a small gay owned beach club with very classy service and great food.
In these beach clubs you'll find hundreds of gay men and women sitting under the palapas or on towels nearer the surf line, soaking up the hot Mexican sun and socializing with gays from all over the world. 
Once at the beach you'll immediately come in contact with the many beach vendors, who are licensed and very territorial.   There are various things being sold, all by differing vendors, since there are separate licenses for each kind of item.  You'll be offered fruit, ice cream, fresh pies, newspapers, silver jewelry, clothing items, tickets to cruises and tours, Mexican blankets, and many more items.  This is the place to bargain, you should never pay the asking price, although even with great bargaining skills you won't get as good a price here as when you shop for these items away from the beach.  After a while it can get irritating to some, because these vendors keep coming around.  Our recommendation is to stay relaxed and get used to saying politely (but firmly) "no, gracias" and don't let it bother you.
The beach is easy to find, it is less than a quarter mile south of the pier located at the foot of Francisca Rodriguez Street.  The blue and green chairs are marked on our map (see map).  In case your gaydar isn't working when you get there and you need help finding the place, the Blue Chairs flies a rainbow flag on top of their restaurant building.  If taking a taxi to the beach it is best to tell the driver "Blue Chairs - Los Muertos."
---

A non profit, bilingual art center dedicated to expanding the local and international knowledge of Contemporary and Historical Arts and Culture in puerto Vallarta.
Read more
Day Tours
Go back to top
There are several tour companies and cruises to choose from if you're interested in getting off that beach and doing something else. With the beauty out there that is Banderas Bay, the most common type of tour is a gay cruise. You can also choose horseback riding tours and shopping tours. All tours listed here are for the gay community. There are countless others (straight tours) that we don't detail here.
For a full calendar of all the gay tours click here!.

Estigo is a gay owned and operated tour group that offers organized tours and Adventures in Puerto Vallarta including ATV Tours, Zip Lining, Private Boat Tours, Horseback Riding, Sailing and more.
Read more
Attractions
Go back to top
Vallarta Botanical Gardens opened its gates in 2004. Since then it has grown to become one of Puerto Vallarta's most fabulous "must see" tourist attractions. The Gardens hours are, 9am-6pm. 7 days/wk. From Dec. through Mar. (Except Dec. 25th & Jan. 1st.). Apr. through Nov. Open 6 days/wk (closed Mondays). December through March visit for the Early "Bird" Opening. Thursdays at 8am, Daily Guided Tour 1pm.
Read more
Beach Clubs
Go back to top
These beach clubs on Playa Los Muertos are gay owned or cater to the gay audience.

"The Beach Club" is a very popular beach club, where people from all over the world meet to meet new friends and enjoy delicious meals at a reasonable cost, with excellent Mexican food, fresh seafood, meats and snacks. **Open to the public from 7am to 8pm following all protocol.**
Read more
Schools and Classes
Go back to top

Live the experience of the cooking classes with chef Julio Cesar Castillon Perez. Reservations require!
Read more